Finding an Extraordinary God in an Ordinary Life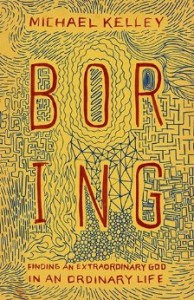 Today we live with a false separation between sacred and secular that was never meant to be. Work, paying bills, changing diapers . . . when Jesus enters any situation He makes even the most mundane things extraordinary.
Boring enlivens this truth as author Michael Kelley challenges readers: we can give ourselves to ordinary life—parenting, marriage, work—because we fully believe in God's presence and power within those situations. They are no longer boring, but important.
On every page, Michael's writing provides biblical truth that is relatable and engaging to everyone. You'll begin to see every day at work, every relationship, and every moment for what it is: a part of God's exciting plan for your life.
ISBN: 9781433681356
Binding: Trade Paper
Publication Date: September 2013
---
PURCHASE:
---