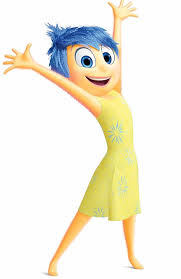 If you're one of the six people who hasn't seen Inside Out, this is Joy (by the way, feel free to come back to this post in two hours after you've seen the movie. And wept. A lot). The movie takes place inside Riley's head, and the audience is privy to the personification of emotions like joy, sadness, fear, and disgust. Joy, in the movie, becomes a walking, talking, thinking entity. And it makes me wonder, as a Christian, what she would really say if Joy could talk to us today.
This is an important question because joy is one of those things we tend to confuse with something else. But if joy could talk, maybe she would clear up some of those misconceptions. So what would Joy tell us if she could? I think it would be at least four things:
1. I do not wax and wane with circumstances.
We tend to associate joy with what's going on during our day. If things are good, our level of joy is high. But when things go south, so does our joy. But joy is deeper than a mere sentiment or emotion; while these things ebb and flow depending on what's happening at a given moment, joy finds its true source in God and in God alone. As we grow in Christ, then, our joy increases; not because our lives get better and better circumstantially but because our knowledge of and relationship with God deepens as we grow.
"You reveal the path of life to me;
in Your presence is abundant joy;
in Your right hand are eternal pleasures" (Psalm 16:11).
2. My source is more solid and stable than the rising sun.
Because joy comes from God, and God is the unshakable rock, we can know that our true source of joy will never be shaken. No matter what else happens, no matter how much or little money, health, or anything else we have, we will always and forever be rich and God. That means we are never ultimately without hope. Don't confuse joy with optimism or some pie-in-the-sky version of tomorrow. Joy comes with the morning because God is still there even if nothing else is.
"For His anger lasts only a moment,
but His favor, a lifetime.
Weeping may spend the night,
but there is joy in the morning" (Psalm 30:5).
3. I'm found not through immediate gratification but through pushing past it.
Happiness if found around every corner. We see peddlers of emotion on billboards, commercials, and a host of other places. Everywhere we turn, the promise of happiness is held out for us. But joy is deeper. CS Lewis once made the comparison between happiness and joy by saying that we are content to play around making mudpies because we have no concept of a holiday at the sea. In other words, our issue is that we are far too easily pleased. We can find true joy when we become discontent and dissatisfied with the temporary sources of happiness and find ourselves pushing past immediate gratification into the source of true joy.
"Be glad in the Lord and rejoice, you righteous ones; shout for joy, all you upright in heart" (Psalm 32:11).
4. I am an issue of obedience.
Don't make the mistake of thinking that joy "just happens." We drift in and out of a lot of things in life, but joy should not be one of them. To the Christian, joy is an issue of obedience. We are commanded to pursue joy, to find joy, and to not settle for anything else. Rejoicing in the Lord, then, is not merely a suggestion or a tip for a better day; it's an issue of obedience.
"Rejoice in the Lord always. I will say it again: Rejoice!" (Phil. 4:4).
Subscribe to MichaelKelley.co
Never miss a new post. Subscribe to receive these posts in your inbox and to receive information about new discipleship resources.