There's a rumor going around that Burger King is beginning the testing phase of a bacon-flavored sundae: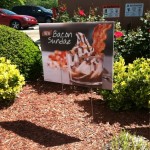 I'm not sure what to think about this. On the one hand, I think our society is probably big enough, and we don't need bacon and ice cream together.
However…
I have long held the hypothesis that bacon is one of those foods that, when added to anything, makes that thing better.
What can I say? I'm torn.
So on the subject of bacon, here's today's question:
"What's the greatest dish you've ever had that involved bacon?"
Subscribe to MichaelKelley.co
Never miss a new post. Subscribe to receive these posts in your inbox and to receive information about new discipleship resources.