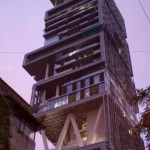 This is Antilia. It's the home of Mukesh Ambani who in 2011, Forbes ranked as the 9th richest man in the world, with a net worth of $27 billion.
Ambani purchased land on one of the most expensive streets in Mumbai and began constructing Antilia, a towering structure that will serve as the 400,000 square foot home for his wife, three children and 600 staff members.
It's 567 feet high.
It has 27 floors.
Each floor in the complex offers something different and there are no identical floor plans.
The Ambani family will occupy only the top four floors. Conveniently, there are still 23 other floors for luxuries such as parking space for 168 cars, a health spa, swimming pools, a movie theater and three spectacular hanging gardens spaced at different levels of the building. All told, the house will come with a price tag over $1 billion.
Here's the thing, though. If you stand on the top, there is evidently an amazing view of the Arabian Sea. Also, the slums of Mumbai are clearly visible. Can you imagine that – standing on the top of a 27 story, 1 billion dollar home and looking down at the slums?
What kind of person spends his money on things so lavish and so expensive when some of the poorest people on the planet are so close at hand? Who could possibly live in such luxury with the knowledge of such poverty?
Who?
Ummm…
Wait a minute…
Subscribe to MichaelKelley.co
Never miss a new post. Subscribe to receive these posts in your inbox and to receive information about new discipleship resources.