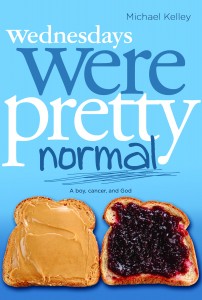 This morning, me and the family are filming a promotional video for my book with B&H that will come out in March. It's called Wednesdays Were Pretty Normal: A Boy, Cancer, and God.
If you've hung around the blog for very long, you'll know that our son, Joshua, was diagnosed with leukemia at age 2 and underwent 3 and 1/2 years of chemotherapy. The book is part memoir, part reflection on the nature of faith in the midst of suffering. Here's the first few paragraphs from chapter 1:
My son likes his peanut butter and jelly sandwiches cut into long, thin strips. It's a little extra effort, but every time I make him a sandwich I spread a thick layer of peanut butter on one piece of bread and an equally thick layer of jelly on the other. Then I mash the two onto each other, bringing together the classic blend of sweet and salty, and I cut off the crusts. I think that I read somewhere that the crust is good for you, like the skin of potatoes, but Joshua doesn't like them. At 6 years old, he hasn't grasped the need for nutrition yet, and sometimes I count it a moral victory that he's getting in his fruit group from the jelly side, so I don't press the crust issue. Then I cut the sandwich into 4 long, thin pieces.
His name is Joshua Michael Kelley—not very original, I know.  When he was born in 2004, "Joshua" was the third most popular name for boys in the United States; "Michael" was second most popular. No points to us for creativity.
But we didn't consult the lists for trendy names during those days. We named our first-born child "Joshua" for two reasons. First and foremost, we loved the name. We thought it inspired strength and conviction. We still hope the day never comes when his name gets shortened to "Josh"—I think that shortened version takes away from the power of the original. We wanted him to be named Joshua—the whole name, with the whole meaning. That's the second reason for our choice.
"Joshua" is a Jewish name, and while we have no physical Hebrew lineage, we resonate with the meaning behind the name: "The Lord is Salvation." Being a family of faith, we enjoy the implication of the name and hope that someday he'll grow to appreciate it as well. We want Joshua to live a life in which he knows who God is, and is confident in himself because he's confident in God. We don't necessarily expect him to be a tremendous scholar, or someone of great prestige or fame (though watching my son play for the Atlanta Braves would be just fine with me). No angels came down out of heaven to make a grand prediction about his future. But we do want him to walk in confidence, knowing that God is salvation—nothing else. Even in hopeless times, that God is salvation, regardless of what career or family track he chooses.
So that's the name we went with. We decorated his room in blue and red; we had a picture framed commemorating his name and the meaning behind it. And we expected to live happily ever after. I'm sure that in 2004 we imagined Joshua standing up for his moral convictions throughout his teenage years. I think we hoped that he would choose to believe rather than doubt as he made career and educational decisions. We did not, however, expect the reality of life to come crashing into our insulated world as quickly as it did…
———-
We are really excited about the book being published and are thankful for the chance to tell our story in the hope that many people will be pointed back to the gospel in the midst of difficulty. Over the next few months, I'll be sharing more about the book, including when you can preorder your first 10 copies for you and all your friends!
Subscribe to MichaelKelley.co
Never miss a new post. Subscribe to receive these posts in your inbox and to receive information about new discipleship resources.