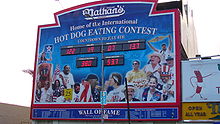 The easy thing to do today would be to go straight 4th of July, making the question something like, "What's your favorite memory of the 4th?"
But let's go a little deeper. Though there are many great Independence Day traditions, one of my favorites is the annual hot dog eating contest at Coney Island.
It's a 10 minute contest to see how many dogs and buns you can put away. Last year, Joey Chestnut ate 68.
68.
So here's today's question:
"If you were a contestant in the hot dog eating contest, what would be your strategy?"
Subscribe to MichaelKelley.co
Never miss a new post. Subscribe to receive these posts in your inbox and to receive information about new discipleship resources.