We are now a month away from the release of my Bible study from Threads called Holy Vocabulary: Rescuing the Language of Faith, though you can pre-order it now so it will be shipped hot off the presses to you. So says the back cover: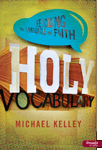 "Understanding to the rescue!
Whether we recognize it or not, Christianity has developed its own subculture over time. This subculture has its own music, customs, and buildings, not to mention a vocabulary of holy words we, as members of the subculture, use to talk about Christianity. Saved. Grace. Repent. These words are synonymous with the Christian experience. But do we really know what they mean, or have we used them so much they've lost their meaning?"
I'm really excited about the study, so today here are 5 ways you might have use for this study:
1. As a reference tool. Keeping it on your shelf will be give you a quick and easy reference guide to refresh yourself on the meanings of the words you're going to encounter day in and day out in church.
2. As part of an introduction of new believers into your church. Someone in your church or life begins to walk with Jesus. Holy Vocabulary is a great way to help them immediately begin to learn about the nature of that walk. It's a resource you can keep a supply of around the church to hand to every person after they're baptized.
3. As an evangelistic tool. This isn't a "back-door" Jesus kind of thing; it's a straight-forward and unapologetic primer of basic Christian beliefs. It reads just like a regular book, so why not hand it to someone who is curious about what Christians believe?
4. To lay a doctrinal basis for your entire church. Why not buy a copy for everyone in your church? Then do a six week series on the basics of Christianity to during the late summer or fall? If you want to do this, the leader kit includes sermon outlines for you to use, then each member can read more about what you introduce in your sermons on Sunday.
5. To kill mosquitoes. If you get it and don't like it, there's still hope for you. It's durable cover will serve as an effective bug-killing device for those fall evenings on the porch.
Holy Vocabulary drops on July 1. Pre-order your copy of the book and the leader material now. Please.
Subscribe to MichaelKelley.co
Never miss a new post. Subscribe to receive these posts in your inbox and to receive information about new discipleship resources.